Something for the Weekend, Sir? No, I didn't get it wrong. I had a… er, computer glitch. There, everyone will believe that.
The virtual pub quizmaster isn't looking so credulous, though. He has just reminded me who classical Rome's first emperor was. He does not look in the mood to entertain the idea that I really had typed in A-U-G-U-S-T-U-S but my computer, on a whim, retyped it as J-U-L-I-U-S.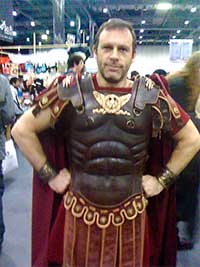 Pff, what do I know about the Roman Empire? Sure, I might have studied Latin at school and watched a few "peplums" as they call them here. But I'm hardly the type of person to dress up in Roman costume and parade myself around a cosplay show as a character from Hetalia: Axis Powers.
Fair enough, it wasn't a computer glitch. I got the answer wrong. Still, it was worth a try. Usually, no matter how badly I mess up, regardless of my rank idiocy, whatever clusterfuck I have brought onto my customers and colleagues, all I have to say is "The computer system's playing up again" and I'm off scot-free.
I must hear this expression, or variants, several times a day – even in lockdown. I hear it at every checkout till, at the doctor's, at ticket offices, in dealings with government agencies, and customer services staff especially are big fans. Working on my computer, I notice occasional messages to say an "unexpected error" has prevented a task from completing; in other words, even my computer is blaming itself now.
Given how prevalent this computer glitch problem is in our modern society, there must be a wider logical explanation. I have four theories.
First: we are all just pretending and there are no computer errors. We fake their existence purely in order to win a virtual pub quiz.
Well, that theory's not going to work, is it? I have experienced real computer errors myself, so they must be real for other people as well. Unless… my computer is pretending? That certainly sounds in character with my laptop. I've long suspected it of faking errors just to annoy me, the little bastard. Perhaps all the computers in the world are concocting some nefarious scheme of chipset obscenity beyond our understanding, revolving around comprehensive interference with the normal functioning of retail POS systems and pub quiz cheats.
OK, try my second theory for size: that it's down to cosmic rays. If they can bring down aeroplanes, they could just as easily explain why my (bastard) laptop occasionally freezes for 40 seconds if I press the L key from the wrong angle while a bird flies past my window on a Wednesday.
Third: most software isn't programmed very well and the hardware it runs on is poorly designed and assembled. [Laughs] Yes of course I'm only joking! The very thought! As if! NEXT!
Fourth: that all the above are true.
As I see it, computers cock up all the time for real. Some of it can be traced to bad design, some of it inexplicable (neutron blasts) and plenty of it down to humans trying to divert blame from their own mistakes. And it's that last one that holds sway the most. You don't need bad programming or cosmic woo when human stupidity is willing to take up the slack.
For example, last month's COVID tracking fail in the UK, which allowed thousands of COVID-positive Britons to walk around unaware for a week, was immediately described as a "technical issue". Pedantically speaking, that's true. But what the public understands by those two words is that it must have been one of those inexplicable computer glitches that we all get. Later, when the issue was revealed as an "Excel error", one can easily imagine the rolling of eyes, puckering of cheeks and sage nodding around the country.
You and I know it wasn't an Excel error – it was a limitation. Excel worked fine. It was the wrong software to use, that's all. You don't try to stuff 100 passengers into a Mini Cooper and zigzag down the motorway until you crash, only to insist there was an error with the car.
Another choice cut comes from the recent/current/ongoing/never-fucking-ending US election for the presidency. A county in Michigan miscounted a number of votes apparently due to a "software problem". Apparently this is another way of saying "someone forgot to run a software update on the voting machine."
God knows what excuses they must have come up with before they started using counting machines. Perhaps in the old days, clerks would tally the votes using pencil and paper, only for one of them to complain he had miscounted by a couple of thousand votes due to a "pencil problem".
And this week in France, another "problème technique" popped up to please a public seeking entertainment wherever they can during lockdown. As covered here on The Register, on Tuesday morning the public radio station RFI accidentally published a bunch of obituaries of celebrities and notables.
Alain Delon, Sophia Loren, Clint Eastwood, Brigitte Bardot, Pelé, Alex Ferguson, Yoko Ono, Roman Polanski.
Also there's a standout French personality in the list: Bernard Tapie, a dodgy businessman and one-time football club owner who constantly claims to be near death in order to avoid prosecution. This is the THIRD time he has been reported dead and an obit published in the media, and yet he still lives on.
Actually, it was a bit more than just a bunch. It was a veritable massacre. Dozens of freshly dead prime ministers, businessmen, foreign dignitaries and film stars suddenly filled RFI's news pages and social media feeds in a single almighty splurge of necro-horror. Pierre Cardin, Jean-Paul Belmondo, Lionel Jospin, Raúl Castro, Sophia Loren, Clint Eastwood, Brigitte Bardot, Pelé, Alex Ferguson, Yoko Ono, Roman Polanski, the Queen of England… Row after row of well-known men and women in their later years, cruelly snuffed. It was like waking up to read about the end of the world as we know it.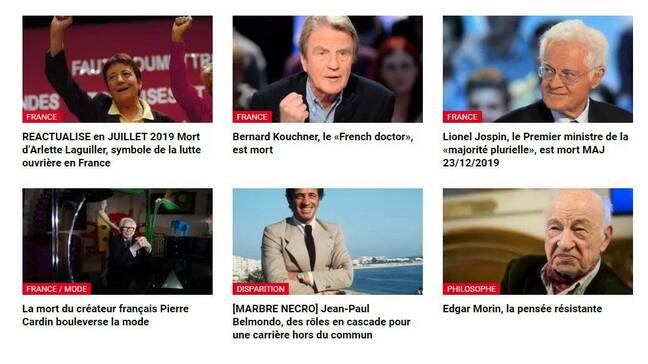 I see alive people: RFI's list of the not dead yet
It is common knowledge that major news organisations prepare and regularly update obituaries of famous people while they're still alive so that they can be published at a moment's notice. In French media slang, a pre-written obit is known as a "marbre" – literally a "marble", as in gravestones and memorial plaques. It seems that someone accidentally dropped a JCB-load of marbre into the wrong folder in RFI's new media management system.
This was obvious when you started reading. The Queen, we were told, died on… well, she died on three dots apparently, and the second paragraph of her RFI marbre reads: Replace the first paragraph with the following variant in case of death by coronavirus. You will also have to change the summary and headline. If RFI's readers understood this to be an instruction directed at them, they were probably thinking citizen journalism had got rather out of hand.
Half an hour later the stories were deleted and replaced with an apology, thrillingly elevating the bland "technical problem" to the much more exciting status of "major bug". Because that's what software bugs do, isn't it? They spontaneously publish draft obituaries to live sites, don't they? The programmers must be kicking themselves for leaving in that 6sensei_see_dead_people_lol subroutine.
Which brings me back to Julius Caesar, because something like this happened to him too. That is, a seer had published vague details concerning his death long before it actually happened in real life on the Ides of March. What Suetonius does not tell us is what happened to the seer.
My guess is he blamed a "technical error". ®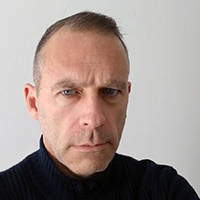 Alistair Dabbs is a freelance technology tart, juggling tech journalism, training and digital publishing. More investigation into ancient scrolls reveals that the seer, being accused of trolling Caesar in a public forum, was eventually lynched by the mob in a "sophisticated attack". More at Autosave is for Wimps and @alidabbs.
, https://go.theregister.com/feed/www.theregister.com/2020/11/20/sftw/,